Kohmann 2000 Window Machine
Classic
Innovative technology combined with proven engineering offers the best in productivity and efficiency. Low investment costs and high processing performance guarentee future success. These principles guide the design of our window patching machines.
Convincing Technology
Convincing Technology
Short set-up times thanks to computer aided setting assistance
Operator friendly thanks to data input via touch screen panel
Glue and film position can be adjusted during machine running
Computer setting of film length
Computer setting of blank feeder
Multi-purpose options available
Features
Features
Reliable and Versatile
The single roller glue unit is fully retractable and ensures full access to this station.
Setting and cleaning is carried out within minutes.
Only a small residue of glue has to be disposed of when the work is finished.
Latest design of the timed belt feeder allows converting of solid and corrugated board up to 6 mm thickness.
Data input by touch screen.
The PLC monitors the machine functions to reduce set-up time and to increase efficiency.
Flexible
Whether you require a simple window on a standard blank or a more complicated product:
Our design allows the use of various options, either installed in our factory or retrofitted at a later point.
Options
Tube forming station for production of inner tubes
Intermittent working length cutting or perforating unit
Punching and scoring device
Pick and place unit
Specifications
Specifications
Adjustment range, single stream operation
Min
Max
Blank length
100mm
3 15/16"
900mm
35 7/16"
Blank width
80mm
3 1/8"
1100mm
43 5/16"
Film length
40mm
1 9/16"
550mm
21 21/32"
Film width
60mm
1 3/16"
720mm
33 1/16"
Adjustment range, double stream operation
Min
Max
Blank width
80mm
3 1/8"
535mm
21 1/16"
Film width
Depending on blank position
Total power consumption:
9 kW
Output Figures
1 Stream
2 Stream
1-up operation
blanks over 330mm (>13")
max. 10.000 pcs/h
max. 20.000 pcs/h
2-up operation
blanks under 330mm (<13")
max. 350/minute
max. 700/minute
Applications
Applications
Examples of Kohmann Window Patching Machine Applications
The following examples are simple illustrations of typical applications.
Please call or e-mail for information pertaining to your specific needs.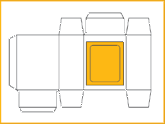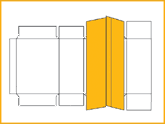 Gallery
Video
Request more information
Fore more information, specifications or o get quote, please fill in this form and we'll get back on you as soon as possible. Thank you.
603-635-1316 voice
603-635-7139 fax
bbarraclough@canampackaging.com
Can-Am Packaging Equip. Corp.
PO Box 191
30 Pulpit Rock Road
Pelham NH 03076 USA