Kohmann PrintChecker 450
Print Inspection Machine
quality control of folding cartons and other print media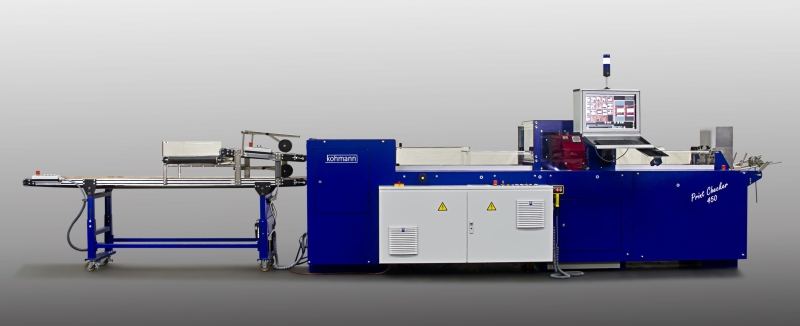 Innovative
By means of the print inspection machine you are able to check the surface of folding cartons and other print media. Differences in colours, printing and in foil stamping as well as spots and typing errors compared to a scanned master will be recognized. Therefore, this machine is ideal for the control of packaging material for the pharmaceutical, tobacco and cosmetics industries as well as for high-quality food packaging.
Here with camera system and inspection software from EyeC GmbH.
Specifications
Specifications
Specifications
Belt feeder with separate motor
Side register alignment section (optional)
Suction belt section with camera unit
Ejector unit for faulty blanks
Delivery in shingle-type with non-stop-control
Single lane
Technical data
max. belt speed:

230m/minutes with 2K-camera (170dpi)
120m/minutes with 4K-camera (340dpi)

max. working width: 450mm
max. blank length: 500mm
max. camera inspection width: 450mm
dimensions of the machine:

length approx. 5600mm to 6800mm
(depending on delivery version)
width approx. 1200mm
Gallery
Request more information
Fore more information, specifications or o get quote, please fill in this form and we'll get back on you as soon as possible. Thank you.
603-490-4392 mobile
603-635-1316 voice
603-635-7139 fax
bbarraclough@canampackaging.com
Can-Am Packaging Equip. Corp.
PO Box 191
30 Pulpit Rock Road
Pelham NH 03076 USA