Kohmann Starlet 620 Folder Gluers
Folder-Gluer
- unfolding opportunities
Key Features
Ideal for processing straight line boxes, crash lock bottom boxes, double wall boxes and CD/DVD sleeves
Low space requirements
Durable design
Maintenance-free drive
Easy format changes
Ideal for crash lock boxes due to pre-break of crease 1+3
High production output
Low maintenance costs
Designed for multi-shift operation
Specifications
Specifications
Standard Equipment
Feeder with vibrating device
Infinitely adjustable distance between carton blanks
Pre-breaking crease 1+3
Bottom disc glue unit
Electronic counter with digital display, including preset counter
Delivery with kick-out device
Drying and press section synchronised with machine speed, can be controlled separately
Belt speed 150 m/min
Special Equipments
Crash lock bottom device
Upper nozzle gluing unit
Bottom nozzle gluing unit
Stripping unit for varnished cartons
Attachment for Compact-Disc sleeves
Special equipment for mini folding boxes
Code reader, glue line detector
Unusual blank formats and special board qualities will be checked by us. Please avoid numerous extreme dimensions in one cardboard blank.
Technical Specifications
Output
150 m/min
Driving power
3 kW
Power supply
230 V/50 Hz or 60 Hz
Box types
Straight line
Crash lock bottom
Double wall
CD/DVD-sleeves<
Space requirements
approx. 5500 x 1200 mm
Weight
approx. 700 kg
Applications
Applications
Examples of Kohmann Window Patching Machine Applications
The following examples are simple illustrations of typical applications.
Please call or e-mail for information pertaining to your specific needs.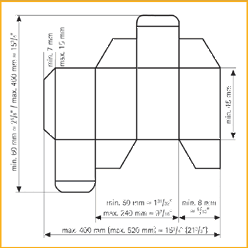 Gallery
Request more information
Fore more information, specifications or o get quote, please fill in this form and we'll get back on you as soon as possible. Thank you.
603-490-4392 mobile
603-635-1316 voice
603-635-7139 fax
bbarraclough@canampackaging.com
Can-Am Packaging Equip. Corp.
PO Box 191
30 Pulpit Rock Road
Pelham NH 03076 USA